"Opportunity knocks…"
Begin with the end in mind. The best time to sell is when you have the most opportunities available to you.
There is only one sale that matters – your final sale!
If you're planning to sell your business in the next 3-5 years, the best time to start the process is today.
How and when you plan to sell your business determines its value. You need time to groom your business for sale since not all businesses sell immediately.
A formal exit plan will help guide you in meeting post-exit financial goals on your terms and avoid risks or hasty transitions. Learn how to make correct decisions if you want to sell for maximum value.
Know the true value of your company
The right time to sell
Increase your company's value before selling
Strategic Tax Planning
Preparing your business for sale
The number one reason private business sales fail is a lack of planning on the seller's part. Avoid the risk of deal failure and financial losses with the right planning and the right advisors. Pavilion improves the value of your company and achieves a higher selling price with the best terms where others cannot.
"Unlock capital and enable freedom"
At Pavilion, we provide decades of extensive experience across many industries. From owner-managed businesses to large public companies, we scale and tailor our services to fit the needs of each individual client.
"A goal without a plan is just a wish."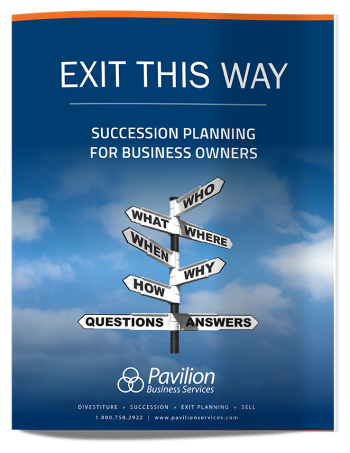 Download your FREE copy
FREE Consultation